Brazilian Jiu Jitsu Is The Workout Routine You've Been Looking For
Are you tired of your old, boring workout routine? Come to Ares BJJ Sanford for a workout experience unlike any other in Sanford! Brazilian Jiu Jitsu is guaranteed to fulfill all of your physical needs with no two classes the same. We welcome people of all skill levels from Sanford, Linden Oaks, and Tramway to join our Adult Brazilian Jiu Jitsu classes. From grappling to submission, you'll find what you need with us!
Fill out the short form on your screen to learn more today!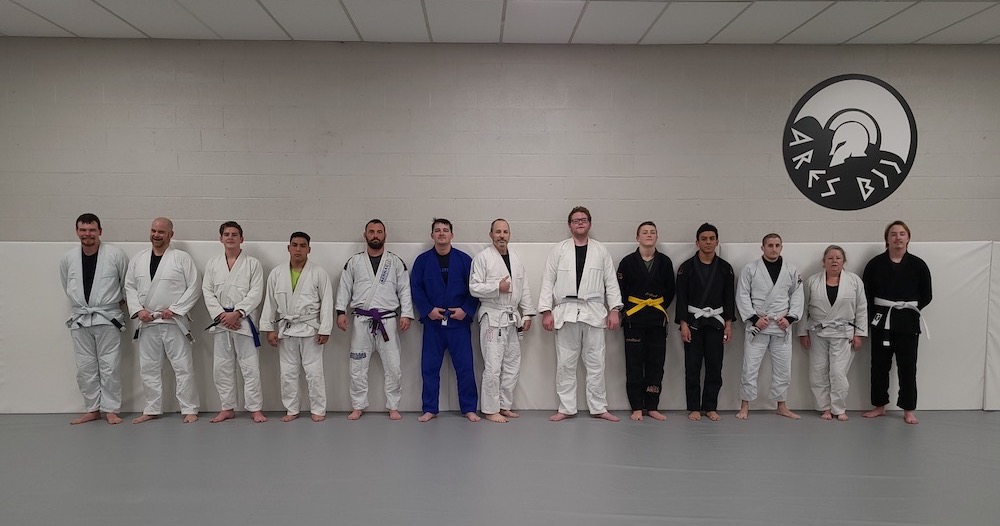 Jiu Jitsu Offers Training For Your Body And For Your Mind
Our vision at Ares BJJ Sanford is to share the Jiu Jitsu lifestyle with all of our community. That means that we're not just going to help you learn the physical motions. Taking Jiu Jitsu classes with us will also help you by sharpening your skills, perfecting your timing, and getting you in incredible shape in the process!
With the right mindset, the physical benefits will just come naturally! Brazilian Jiu Jitsu uses techniques like grappling and tactful leverage to bring opponents of any size to submission. You'll notice that you feel better and you'll have more confidence just knowing that you're capable of protecting yourself and those you love.
Brazilian Jiu Jitsu at Ares BJJ Sanford offers:
A strong community of likeminded individuals striving for better health in body and mind
Heightened confidence and self-respect as a result of your hard work
Sustainable weight loss strategies that show results fast
Effective self-defense techniques that you can use in real-world situations
Brazilian Jiu Jitsu Training For Everyone
Because of the techniques used in Brazilian Jiu Jitsu, it's a great practice for people of all sizes. By using proper leverage, the goal is to bring your opponent to the ground where the playing field is turned towards the more skilled player's advantage. That's why we believe anyone can be successful in Jiu Jitsu! It doesn't matter if you're a complete beginner or if you've trained for years, our Brazilian Jiu Jitsu classes can spark interest in anyone!
Come train in Sanford to enjoy:
High-energy sessions to help you achieve all of your fitness goals
Noticeable boosts in your energy and endurance
Professional instruction from world-class champions
An entire lifestyle that will make you the best version of yourself
World Class Brazilian Jiu Jitsu Classes Right Here In Sanford
You don't have to travel far to get the training you need. People from all over Sanford, Linden Oaks, and Tramway are already enjoying the best in Brazilian Jiu Jitsu training and you can, too! Here at Ares BJJ Sanford, we're sharing our love of Brazilian Jiu Jitsu with anyone that walks through our doors.
Just fill out the short form on your screen to learn more today!